Enhance Your Testosterone Levels With Isatori Isa Test GF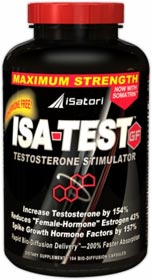 Isa Test GF is Isatori's popular anabolic supplement for increasing testosterone, inhibiting estrogen, increasing strength and muscle mass, and also enhancing libido and sexual drive. The supplement contains several key ingredients that work to achieve these results with little to no side effects, and some of these ingredients include ZMA, Testofen (Fenugreek), Tribulus, Tongkat Ali (Eurycoma Longifolia), Epimedium Sagittatum (horny goat weed), and Ajuga Turkestanica (Turkesterone). Many of these ingredients are commonly found in various other testosterone enhancing supplements.
In my many years of training and supplement use, I've used my fair share of testosterone enhancing supplements such as BSN Axis HT, MHP T-Bomb II, Biotest Tribex, ZMA's, and Tribulus supplements just to name a few. I would have to give Isa-Test GF a two thumbs up, and rank it up there as one of the better test enhancers that gives good results. There are some interesting ingredients in Isatest GF, and in our review, we'll discuss some of the in some detail. If you've used Isa-Test, please share your review of Isa-Test GF here.