Nutrex T-UP Black is One Amazing Testosterone Booster!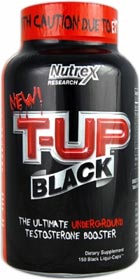 What is a testosterone booster supplement? And what's in a testosterone booster? The typical run-of-the-mill test booster you'll find on the market helps to increase one's natural testosterone production, and this is often achieved through the inclusion of various common ingredients such as tribulus, tongkat-ali, avena sativa, fenugreek, horny goat weed, and stinging nettle extract. Most of these may be familiar to you if you've looked at the ingredient label of any test booster supplement. You'll often find some, or all of these ingredients in various testosterone boosting supplements.
These ingredients all work in different ways to help increase testosterone levels. Some do so through stimulating lutenizing hormone (LH), some help increase libido and sexual desire, others bind to SHBG (sex hormone binding globulin) to increase free testosterone levels, while others help minimize estrogen. With so many different test enhancers on the market, it can be a tough choice to pick and choose the right one. One top rated testosterone booster is the T-UP Black by Nutrex. Nutrex also makes another top rated testosterone booster called Nutrex Vitrix, which we also have a review for.
Here, we'll be doing the review on Nutrex TUp Black.