Boost Your Test Levels Naturally With Nutrex Vitrix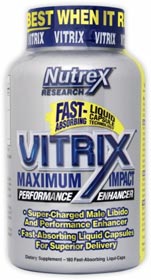 Vitrix is a natural testosterone enhancing supplement that's made by Nutrex - a supplement maker with several popular products including Vitargo CGL creatine and Lipo 6 fat burner. Vitrix contains various herbs that work to enhance natural testosterone production, which could lead to improved strength gains and increased sex drive and libido.
I'm sure most will probably be familiar with tribulus terrestris to some extent, and if you've read around the site a bit, you'll see that we emphasize scientific research on many supplements, diet pills, and their active ingredients. Obviously, real life situations differ from laboratory conditions, and what results are achieved in a lab may not necessary reflect true circumstances of the real environment we live in. My point here is that, although scientific research are a great starting point in evaluating supplements, it's by no means an end-all-be-all metric to evaluating a particular supplement.
I think that is the case here for Tribulus Terrestris. Read on below...