Dymatize Elite Mass gainer Review
Dymatize Mass Gainer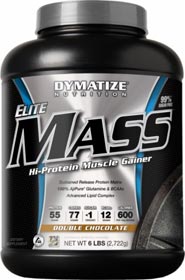 Looking for a high quality weight gainer that contains good amounts of high quality protein that's not overloaded with carbohydrates? Look no further than the Dymatize Elite Mass Gainer. This is a high protein gainer that contains 55 grams of proteins per serving. We all know that the two key components of a weight gainer are proteins and carbs; however, not all gainers are created equal.
You'll find a lot of mass gainers on the market that simply stuff their product with low-cost carbohydrates while skimping on the protein. This is why when buying a weight gainer, you should always consider the carbohydrate to protein ratio. That is, you should look at how much carbs are contained on a gram to gram basis with protein. Typically, I like to look for weight gainers with carb to protein ratios of less than 2 - meaning that for every 2 grams of carbs, there should be at least 1 gram of protein. The lower this ratio, that better, because you get more protein.
Looking at Dymatize Elite Mass Gainer, each serving contains 55g of proteins along with just 77g of carbohydrates, giving you a very good carb to protein ratio of just 1.4 (77g / 55g = 1.4). This is definitely on the lower side. I've seen weight gainers with carb to protein ratios as high as 4 to 5.
Often times, you might see two weight gainers side by side, about the same container size, yet one costs only half as much. "Great deal!" You're probably thinking. But not so fast! Take a good look at the nutrition labels, and you'll likely see that the lower priced gainer is massively loaded with carbohydrates. Carbs are dirt cheap. You can get 1lb of dextrose for around $2 dollars.