CytoSport Muscle Milk Review
Muscle Milk Protein Supplement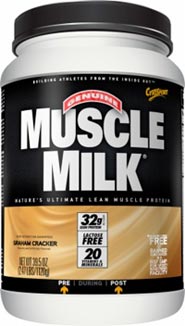 I'm just finishing up my current tub of Cytosport's Muscle Milk protein powder, and I'm very impressed. This is my first time trying Muscle Milk, by the way. I've always heard a lot of good things said about Muscle Milk (taste and quality wise), and at the first chance, I picked up a tub of banana cream flavor.
There are many whey protein powder supplements on the market, and most are quite "similar" - and users buy them depending on their own preferences of taste, price, brand name, etc... At the same time, there are different types of protein powders aimed for different needs and purposes. For example, pure whey protein for post workout, and protein blends for other times during the day, or a bed time protein shake. Then there are different quality protein powders mainly whey concentrate, whey isolate, or a mix of both. Whey concentrate powders are quit a bit cheaper than pure whey isolate powders
Cytosport Muscle Milk fall in the category of protein blends, most fit for use throughout the day, and also as a bed time protein. Muscle Milk is a protein blend of whey and casein proteins - in what Cytosport calls their EVOPRO formula - "evolution based protein".