Optimum Nutrition 100% Whey Protein Review
100 Whey Protein Has it All...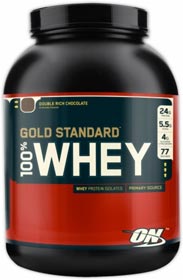 Great taste, excellent pricing, and quality. You name it! If you've read some other protein articles on the site here, you'll see that I think highly of Optimum's 100 whey protein. I've been a long time user of 100whey protein, and have been very happy with it. Of the top of my head, I can think of handfuls of people who are also pleased with this protein supplement as well!
Strangely enough, despite how long I've been using 100 Whey and how much I enjoy it, I've never done a review on it. At the same time, Optimum Nutrition reformulated their 100whey sometime back to make it even better, so I decided to get off my lazy butt and do a review on it.
Yes, you read it correct, Optimum reformulated their 100% whey protein which was already top notch for price and quality considerations, and now, they've even made it better!
So what's changed? Here's some key changes:
the addition of Hydrolyzed whey peptides
each 30.4g scoop contains 1more gram of protein (now at 24g instead of 22g)
100% Whey is now "instantized"
and a new look, which we don't really care about.