Cytosport Cytogainer Review
Cytogainer Weight Gainer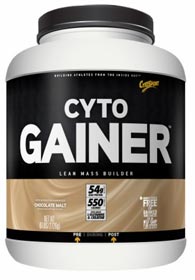 Cytogainer is another popular weight gain supplement made by Cytosport supplements, who also makes the popular Muscle Milk protein supplement. As with all weight gainers, its main ingredients are protein and carbs, and it also comes with a long list of vitamins, minerals, along with some creatine and glutamine.
In the supplement market today, there are countless weight gain supplements you can choose from, and with all the different container sizes, serving sizes, ingredient differences, not to mention all the flavors to choose from, it can get a little difficult trying to pick out a weight gainer that's right for you. Typically, weight gainers will have at least 600 calories per serving, with some having over 1000 calories per serving. This, however, does not mean that a weight gainer with more calories is better than one with less calories. The one with more calories will always have a larger serving size.
So how do you go about picking a weight gainer? The reviews here certainly help, but we don't have reviews for all the weight gainers out there unfortunately. A simple guideline I like to follow is choosing weight gain supplements that have a lower carbohydrate to protein ratio in the 1.5 to 2 range. That just means that for every gram of protein in a serving, there should be about 1.5 to 2 grams of carbs. I tend to pass on weight gainers that provide insanely high amounts of carbs where the protein to carb ratio can go as high as 3 to 1 or even 4 to 1. While this isn't a golden rule to follow, it makes good sense on many levels. Quality protein costs much more than carbs (2lbs of dextrose sells for under $4 bucks), so supplement makers can save money by stuffing a lot of "weight" in to a gainer by loading up on carbs and skimping on protein.
With that said, the Cytosport Cytogainer is a perfect fit for this profile. Each serving is 4 scoops (150g) which provides 54g of protein and 75g of carbs, giving us a low carb to protein ratio of 1.39. Each serving also provides a host of vitamins, minerals with 3g of creatine and 2g of glutamine. Because of the high quality of Cytogainer, we have received numerous excellent user reviews on this weight gainer. It's rating averages 4.8 out of 5 from all the user reviews. You can read our Cytogainer user reviews here.