Dymatize Elite Whey Protein Review
Dymatize Elite Whey Protein Isolate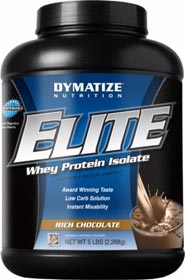 Elite whey protein isolate made by Dymatize is a blend of whey protein concentrate, ion-exchange whey protein isolate, and whey peptides. It comes in 5lb tubs that contain 79 servings, and 2lb tubs that contain 30 servings. The whey protein in Elite Whey is enzymatically predigested, which offers better absorption, and improved bioavailabitly. While the label never tells you what portion of the whey content is concentrate and isolate, but it's always a safe bet to say that majority of it will be whey concentrate, with some whey isolates mixed in.
Whey protein isolate is more expensive than concentrate - because it's of higher quality, and have a higher biological value (BV). Whey protein isolate contains more protein with less fat and lactose per serving. However, it's also more expensive. While the name suggests that this might be a pure whey isolate powder, that is actually not the case. It contains whey isolates, but it also includes whey protein concentrate as well.
The one thing I really like about Dymatize is that they produce top quality products at fantastic prices. Most, if not all of their products are comparable and cheaper compared to Optimum Nutrition supplements, and their Elite Whey Isolate is no different. It's very comparable to ON's 100% Whey in terms of product quality, taste, and it also costs less as well.