Dymatize Elite Fusion 7 Review
The Most Amazing Taste For a Protein Shake!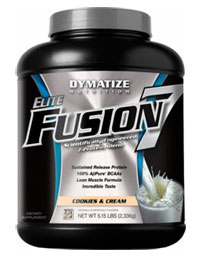 Elite Fusion 7 is a protein complex that consists of a blend of - you guessed it - 7 different sources of proteins. This is a product that is designed to keep fueling your body with high quality proteins over a longer period during the day where you could use it as a post workout shake, or simply take it as a protein snack in between your regular meals. The different protein content contained offers fast and slow digesting proteins.
Dymatize Elite Fusion 7 is fairly similar to Gaspari's Myofusion - in terms of nutrition content. However, between these 2 quality protein blends, I have to say that Fusion 7 wins by a slim margin - in terms of price and taste. Did I mention that this is a product with amazing flavors?! The cookies and cream flavor is an absolute winner! But more on this in a bit.
When it comes to picking protein powders, there are countless choices on the market. I've tried a majority of them, and I know a quality product when I see one. I try not to be biased toward any particular supplement or brand, but I have to admit that I do really like Dymatize products. They're quality products, taste great, and the prices are more than reasonable. And no, I'm not getting paid to write this.