ON Hydro Whey Platinum Review
Optimum HydroWhey Platinum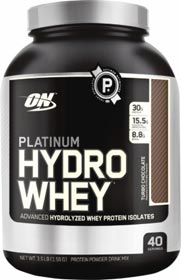 Platinum HydroWhey by Optimum Nutrition is a premium whey protein supplement - it consists of hydrolyzed whey protein isolates. You might be wondering what a "hydrolyzed" whey protein is... Basically, a hydrolyzed protein is a protein that has been "broken" down into its component amino acids, and through this, it is much faster absorbing, and gets to your muscles much faster.
We'll discuss this in a bit more detail later on. HydroWhey protein is also a pure hydrolyzed whey protein isolate - containing no other types of proteins. This is what makes Hydro Whey a very premium whey protein powder, and at the same time, this is also the reason why it costs so much more than a more standard whey supplement such as ON's 100% Gold Standard Whey. It may sound a bit cliché, but you do get what you pay for, and you are getting pure quality whey with this.
I have been a happy customer with Optimum Nutrition products over the years, and have used a wide variety of their products as well. Their ever popular Gold Standard 100% Whey is top notch in terms of quality and price, but it falls short when you compare it to the premium HydroWhey protein. Gold Standard Whey consists of a protein blend that contains whey isolates and concentrates, whereas their Hydro Whey Platinum is a pure 100% hydrolyzed whey isolate.
Obviously, this quality difference is reflected in the price difference where if you compared Platinum HydroWhey vs Gold Standard whey on a protein gram to gram basis you find that Hydro Whey costs over 80% more! This is easy to calculate... You simply figure out how many grams of protein is in a container and then divide by its cost, and then compare the two, and as we've just found out, the premium powder costs a whole lot more.