Weight Gainer Serious Mass Review
Serious Mass by Optimum Nutrition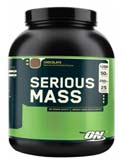 Serious Mass is a high calorie, large serving, and very high carbohydrate content weight gainer made by Optimum Nutrition. Optimum is well known for its quality products and supplements, and I've always liked using their supplements such as 100 whey; however, I have to say that I'm not too impressed with their weight gainer Serious Mass. I'll explain why in a bit. But first, let's see just how "serious" this weight gainer is. One serving, a really MASSIVE serving, will provide you with 1250 calories, and if you take that with low fat milk, you're looking at about 1,700 calories, which is almost the entire calorie intake of an average person! That's pretty massive.
The high amount of calories contained sounds impressive, but if you really look at the serving size, you're consuming about 334 grams of powder, which is 0.74 lbs (pounds!) of powder in one serving. I don't know about you, but I get noxious just thinking about taking all that powder in just one serving, which is why I suggest taking just 1/2 servings.
When it comes to mass gainers, their purpose is to provide a large number of extra calories to the user to create a calorie surplus environment leading to weight gain. Pretty simple and straight forward - if you consume more calories than you burn you will gain weight, and vice versa. But the thing is, what kind of weight do you want to gain? Now, that's something to think about, and I'd say that the kind of gains you want are "lean" gains. With ON Serious Mass, while you may be getting a whole lot of extra calories, most of the calories are coming from carbohydrates instead of proteins.