Preacher Curl Exercise
Preacher Bench Barbell Curl
Preacher curls is an isolation exercise. It can be performed using a barbell, an e-z bar, or with dumbbells. Because it is an isolation exercise with very strict movement, you will not be able to use as much weight compared to standing barbell curls.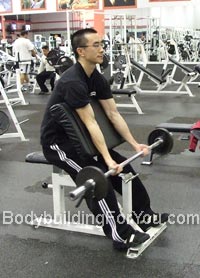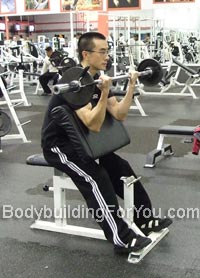 Preacher Curl Technique & Execution
Position yourself on a preacher bench with your chest braced against the preacher bench
Extend your arms over the bench, holding a barbell
Curl the weight all the way up and then lower it back down to full extension
Give a good contraction at the peak of the movement
For variation, try performing preacher bench curls using a reverse grip. See reverse barbell curls.