Standing Barbell Curl
Bicep Barbell Curl
This is the staple exercise for building the biceps muscles. It is the most basic and popular biceps exercise, and it is great for developing mass and strength in the biceps.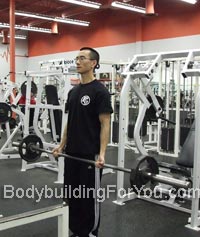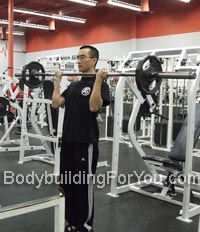 Standing Barbell Curl Technique & Execution
Standing upright, grasp the barbell with an underhand grip about shoulder width apart
Avoid swaying your body, curl the barbell up
Lower back down to starting position
Generally, you should avoid using your the rest of your body to help with this exercise, but sometimes, a very small amount of body movement is acceptable, especially during the last few reps of a set
You can also perform standing barbell curls with your back braced against a wall to prevent you from rocking your body. Another variation of the standing barbell curl can be done using the arm blaster that gives a similar type of strict movement as preacher curls. Also see E-Z bar curls.