Bent Over Barbell Row Exercise
Barbell Row Exercise for Back Muscle
Performed with a barbell, this exercise is targeted for the upper back.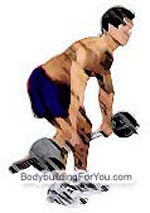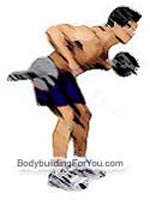 Barbell Row Technique & Execution
Standing with your feet shoulder width apart, grasp the barbell with an overhand grip
Bend your knees slightly, and bend forward
Keep your back straight, and head up looking forward, and let the weight hang at arm's length below you
Using your back muscles, pull the weight upward toward your abdominals
Then lower back to starting point
When performing barbell rows, ensure your back is straight, and when pulling the weight up, avoid using your lower back to isolate the lats. Pull the weight toward your abs, not your chest.