Upper Back Muscle - Latissimus Dorsi
Anatomy of Back Muscle
The Latissimus Dorsi, is what people more often refer to as the back muscle or simply the "Lats". However, the term 'back muscle' encompasses more than just the lats to also include other muscles in the back such as the Rhomboid, Teres Major, Erector Spinae, and the Trapezius. Each of these different muscles in the back perform different functions, and are all required for a full and complete back muscle development. The following sections will explain the back muscles in more detail with a diagram included below.
Back Muscle Diagram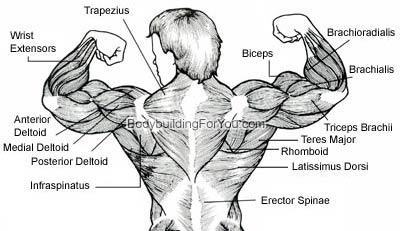 Upper Back Muscle Development
One of the most impressive features of a bodybuilder's physique is the fully developed back - full, thick, lat muscles with a wide sweep. Lat muscle development is crucial for the "V" shape of the body - with wide shoulders, wide upper back, tapering into a tight waistline.
The width of the lat muscle is developed with any type of pulldown movement such as chinups and lat pull downs. Various factors such as the width of your grip, your angle of pulldown, or pulling down to the front or rear, will affect how your lats muscle is worked.
Development of the lower lat muscle requires exercises that use a narrow grip, such as close grip chin up, close grip pulldown, or one arm dumbbell row.