Best Leg Exercise - Squats
Quadriceps Exercise and Workout
The upper leg muscles are the largest and most powerful muscles of the human body. Most if not all sports require intense leg power output. The legs make up about half of our body mass, you just can't avoid training them. Because we use our legs in everyday walking, running, and moving around, they're capable of great endurance, and this is also one of the key reasons why leg training days are so demanding.
Because leg muscle training is so demanding, many beginners tend to overlook leg days, or completely avoid training the legs, and end up with lagging leg muscles. They become disappointed with their leg development. But to develop a symmetrical and proportional body, you can't avoid leg training.
Squat Exercise - The Best Leg Exercise
The squats is power compound exercise that's probably the best exercise to develop the leg mass. Squats will build mass and strength in the legs, and improve your core strength. Full squat exercise is the traditional mass building exercise for the entire lower body with primary target muscles being the quadriceps.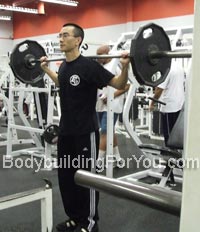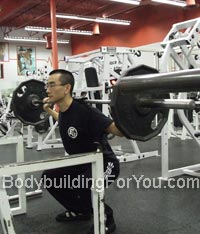 With a barbell placed at an appropriate height on the squat rack, step under it so that the bar rests across the back of your shoulders
Hold the bar for balance and raise it up from the rack and take a step back
Keep your head up and back straight, feet shoulder width apart
Start the exercise by bending your knees and lower yourself until your thighs are just a bit lower than parallel to the floor
From this point, push back up to starting position