Arm Muscle - Build Upper Arm Muscle
Arm Muscles Anatomy

There are several different sets of arm muscles in the human body: the biceps, which cover the upper arm in the front, the triceps in the back if the upper arm, the brachialis muscle that covers the elbow, and the brachioradialis which covers the outer part of what we refer to as the forearm.
The arms are an important part of any training routine, for obvious reasons. Not only are they a noticeable body part, but you'll also be able to highlight your strength gains by working diligently on your arm muscles.
Large, well-defined biceps and triceps are a standard trait in bodybuilder physiques, but they're also a great way to look good in a t-shirt or tank top – no matter what gender you are.
Arm Muscle Diagram
See illustration below for arm muscle anatomy.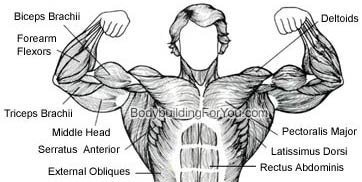 Upper Arm Muscle - Bicep Muscle Anatomy
There are three major muscle groups in the arm. The biceps brachii is a two headed muscle with point of origin under the deltoid and point of insertion just below the elbow. The basic function of your biceps is to lift and curl the arm, and to also pronate (twist downward) the wrist.