Standing Barbell Curls
This is the staple exercise for building the biceps muscles. It is the most basic and popular biceps exercise, and it is great for developing mass and strength in the biceps.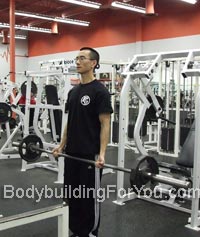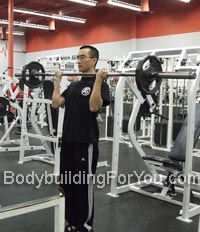 Standing upright, grasp the barbell with an underhand grip about shoulder width apart
Avoid swaying your body, curl the barbell up
Lower back down to starting position
Generally, you should avoid using your the rest of your body to help with this exercise, but sometimes, a very small amount of body movement is acceptable, especially during the last few reps of a set
Alternate Dumbbell Curl
Slightly different from the standard dumbbell curls, alternate dumbbell curls are performed one arm at a time, then switching to the other arm. This allows you to concentrate your energy on one arm at a time.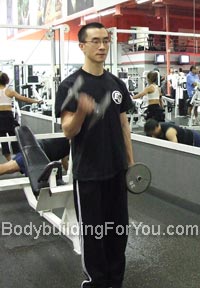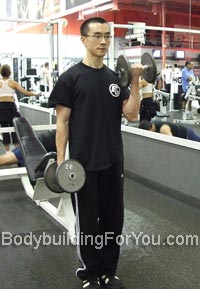 Standing upright, hold 2 dumbbells hanging at arm's length by your sides with your palms facing toward your body
Curl one dumbbell up
While curling up, twist your wrist so that your palm is facing toward you at the top of the motion (keep your elbows steady at all times).
On the way down, control the weight with the same range of motion and twisting your wrist back to starting position so that it's facing your side again
Repeat with the other arm
Close Grip Bench Press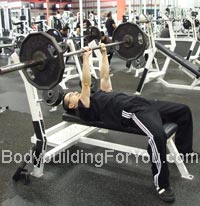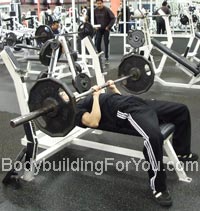 Lie flat on a bench and grasp the barbell with hands about 6 to 8 inches apart
Lift the weight off the support rack and lower it down to your chest
Keep your elbows in by your sides during the movement
Then press the weight back up to starting position
Triceps Pushdown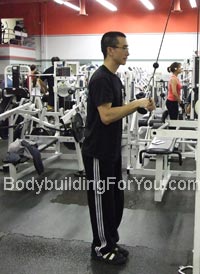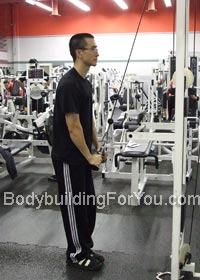 Hold the bar with an overhand grip
Keeping your elbows close to your body, press down the bar as far as possible feeling the triceps contract fully
Release and let the bar come back up to starting position
Keep in mind that to successfully lose arm fat, you need to reduce your overall body fat. As we mentioned above, you need to combine these arm flab exercises along with an entire body workout program. You also need to have a good diet, and if possible, a cardio program as well. Setup your diet to create a slight calorie deficit each day, and make an effort to lift weights at least three times a week, and do cardio training at least three times a week as well.
For women, you should not worry too much about building too much muscle. Because of the hormone differences between men and women, you're unlikely to build over-sized arm muscles. Rather, building a little lean muscle mass overall will help improve your natural fat burning, and help you achieve your fitness goals.
>> Click here for the Fat Loss for Idiots diet plan that can help you lose weight, and keep it off.